Services
On-demand legal advice on a full range of Legal Matters, including Real Estate Law, Family Law, Wills & Estates, and much more!
Family Law
Divorce and separation – Starting at $350 + HST & Disbursements
A divorce lawyer can provide much-needed support when you're going through divorce proceedings. Hiring an attorney to represent you during this difficult time will make the process much smoother. You need someone with experience who understands what's happening and has enough calmness in them for both themselves as well as their client so that they can ease some stress along your way out of divorce court without any hassle or argue about every little detail! The Walk-In Law Firm has a team of professional divorce lawyers in Windsor who are experienced in:
Contracts, including cohabitation agreements or separation agreements.
Litigation at the Ontario Court of Justice and/or the Superior Court of Justice.
Attaining agreements in child and spousal support, as well as enforcing support orders.
Custody and access negotiations.
Division of assets including real estate, pensions and more.
Uncontested divorce applications.
To begin your divorce proceedings, you must complete the requisite forms. It helps in advance to reach a mutual agreement with your spouse over parenting arrangements and other matters before starting this process so that it can go as smoothly for both parties involved. We can apply to the court for assistance if you and your partner are unable to come up with a mutually agreed solution.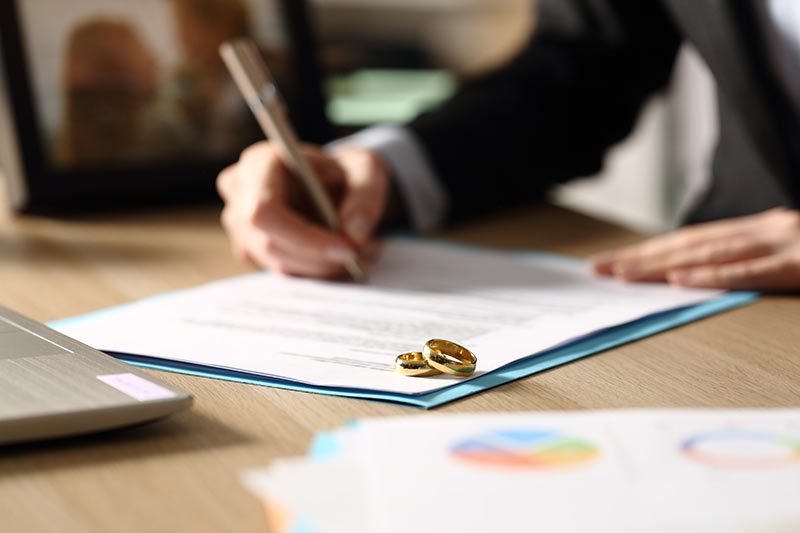 Child Custody
Custody can be resolved through negotiation or in the courts, either way The Walk-In Law Firm is here to help you through your custody battle. We have an experienced team of divorce lawyers & family lawyers in Windsor that will work with the courts or negotiation, whichever way it needs going! Your unique situation is what makes you, YOU! Our team will know which legislation is appropriate for your unique situation.
We work hard to protect your interests while considering the needs of both parents. We'll also take into consideration any living conditions or child-care issues you might have, so that we can offer an appropriate solution for everyone involved!
Understanding the legal and financial implications of child custody during a separation is often difficult for clients to process. Hiring a knowledgeable divorce lawyer in Windsor will ease your mind and ensure the safety of you, your children's rights are protected.
Child & Spousal Support
They say that family is the most important thing in life, but when it comes to negotiating a divorce or any other tough negotiations, We at the Walk-In Law Firm know how stressful family law negotiations can be. or your legal team at The Walk-In Law Firm there's no exception. Your satisfaction with our service will always come first! That's why we offer a variety of services to help make this process as easy and stress free for you.
You can be sure that our team will make you understand your obligations and entitlements. We'll also help with any tax consequences when it comes time for support payments, so all of the information is clear from start to finish!
Division of assets
When going through a divorce, it's important that you understand the effects on your assets and debts. In Ontario there is law called "Family Law Act" which focuses heavily upon leaving both parties with equal footing after they divide up all property belonging together including loans or other financial obligations owed by either spouse before starting this process of subtraction (from anything not joint).
The division of property involves determining the net family assets. This means that each spouse must determine their own assets and debts, although most items acquired before or during marriage will be included in total as part of "Net Family Property (NFP)."
Items that are excluded from an NFP are:
Property both spouses have agreed to exclude (usually in a prenuptial agreement).
Property, including money from an inheritance (provided the money wasn't transferred to a joint account or investment).
Damages for personal injuries, mental distress or loss of guidance.
Portions of a life insurance policy that continues after separation.
Once your Net Family Property is settled, the spouse with the higher value NFP is required to pay an amount that will equalize the values. For example, if one spouse is worth $300,000 while another is worth $50,000, the previous spouse will make a $125,000 equalization payment. This ensures both spouses are equally valued at $175,000.
There are exceptions to the equalization rule. If one spouse, for example, incurred an unreasonable portion of debts during the marriage, or hid debts that existed prior to the marriage, an appropriate exception will be made. Support from experienced divorce lawyer in Windsor is helpful during every step of the NFP.
Select a service to learn more
TALK TO US ABOUT YOUR LEGAL CONCERNS
We have literally served thousands and thousands!
Call or come see us today for honest, dependable service.